CECL/Portfolio Management
A Compliant/Valid CECL tool that results in
lower Provision expense and lower costs.
TCT's Current Expected Credit Loss program makes this new requirement work to your advantage. Early detection leads to lower losses Improving credit scores leads to lower allowance requirements. Combined, this program helps credit unions avoid overfunding while complying with all aspects of CECL.
Get started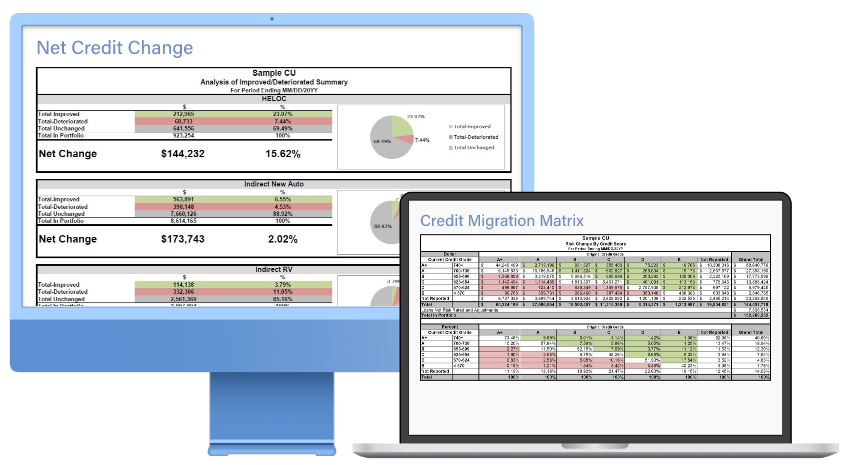 An early warning system for problematic loans so
you can take action and minimize losses
Falling credit scores are the earliest and most valid indicators of probable loss
Our credit migration report, coupled with the Improving/Deteriorating loan tool, helps you identify problem loans early so you can take immediate action and reduce losses by as much as half.
A robust marketing system to highlight members with improving credit scores to fuel loan growth
Members with improving credit scores are a target for your competition. Discover who these members are and take action to increase their use of your services before any of your competitors can steal them away.
Portfolio Management
Managing risk is at the heart of Credit Union success. Risk is dynamic. Borrowers' credit conditions can and do change often. TCT's Portfolio Management Suite with CECL provides a set of tools that support and guide your risk management efforts.

Our Credit Migration report provides early warning signs of credit deterioration for early intervention to minimize losses. It also pinpoints members who have improving credit to provide fertile marketing opportunities.
Delinquency Management
A modern Delinquency Management System that increases collection effectiveness.
Not all delinquencies are created equal. This system identifies and categorizes past due loans into four distinct groups and provides guidance on how to strengthen your relationship with members and turn delinquent loans into performing loans.