Asset Liability
Management (ALM)
Maximize Your Balance Sheet to Maximize Your Earnings..
TCT's ALM model offers credit unions a comprehensive and statistically valid methodology that supports best practices in Interest Rate Risk management
Get started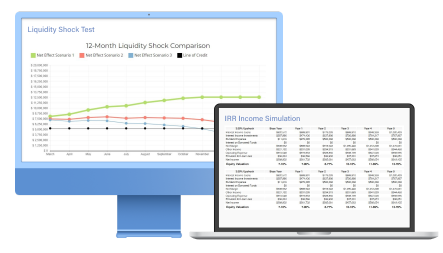 Managing Interest Rate Risk
TCT's IRR Suite is built on state-of-the-art Earnings at Risk methodology
to provide a coordinated set of tools that apply actual credit union performance to measure current Interest Rate Risk, simulate anticipate performance and assure adequate liquidity. This is a measure of anticipated actual performance not a liquidation value.

Base Case IRR Report
TCT's Base Case reports utilizes the credit union's core financial indicators to provide a robust measure of interest rate risk currently present over a five-year period and in five different shock scenarios.

ALM Simulation Tool
Know the impact of your decisions on net interest income, net earnings, and equity before you act. This online tool allows you to model your budget assumptions, test strategies and assure regulatory compliance on a regular basis.

IRR Limits Calculation Tool
Credit unions use this online tool to create equity-based limits for IRR exposure. Assures that your IRR limits are compliant and reasonable and support your short and long-term goals.

Liquidity Shock Test
Use this online tool to create an accurate measure of your current liquidity and monitor it, consistent with NCUA requirements. It can also be used to monitor current liquidity levels and measure the anticipated liquidity resulting from management decisions.